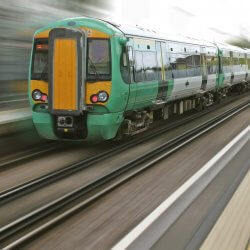 In 1993, the government privatised British Railway Industry (BR) along the lines of EU Directive. Railways Regulation 1992 introduced section 2(2) of European Communities Act 1972 to comply with. This move lead to some important institutions in the UK railway industry. We talk about below. The trade unions however existed before before privatisation.
In this post we briefly touch on who they are and their core functions with links to career sites – just in case you are hunting for job.
What is ATOC, RDG, RSG,
ORR, and RSSB and thier roles in Railway Industry?
Association of Train Operating (ATOC) is employers' union. The association represents the interests of train companies. It was formed soon after privatisation.
Rail Delivery Group (RDG) is the governmental organisation (a part of DfT) which formulates policies and communication in the rail industry for the United Kingdom.
In 2016, RDG and ATOC merged form a  new organisation. And Rail Delivery Group became its name. They provide a range of services to various stake holders in the rail industry as a whole. Their website could be a good starting place to search for jobs across the rail industry.
Rail Supply Group provides and service the rail infrastructure like signals, specialist software, ballast, catering services, announcement systems in the UK.
Office of Road & Rail (ORR) is the railway watchdog for financial performance as well as health and safety. ORR also ensure that there is a fair competition in the railway industry. Railway companies by their nature are monopolies. For example you don't have two Train Operating Companies competing for passengers on the same line from point A to B. They have some exciting opportunities for you to be part of the on going rail modernisation.
Rail Safety Standards Board (RSSB) play a vital role in supporting all the agencies mentioned above. They are the experts to call on have for efficiency and safety related issues. The RSSB also plays an active role in which selection tests to used in the recruitment of train drivers. They are also of the Rule Book. Rule Book details the safety behaviour standards and procedures expected of safety critical staff on the railway.
Trade Unions in the Railway Industry
Rail Marine Time (RMT)
RMT  is a professional and strong trade union for employees in the transport and shipping industry. Most of its members are on the mainline and the underground. Their key objective is to protect and better their members' pay, terms and conditions. It has the largest number of members in the rail industry and it is also one of the fastest growing union in the UK. This make it the most powerful union as it accommodates all grades in the industry.
Associated Society of Locomotive Steam Enginemen and Firemen (ASLEF)
ASLEF is a highly influential trade union for train drivers. They promote and protect the interest of train drivers. They tend to have a very potent bargaining power, owing to the fact that one can not run a proper railway system without a train driver.
Transport Salaried Staffs' Association (TSSA)
TSSA is also a trade union which promotes and protect the interests of clerks' and managers' in the transport industry.